Connecting with a celebrity can create a powerful partnership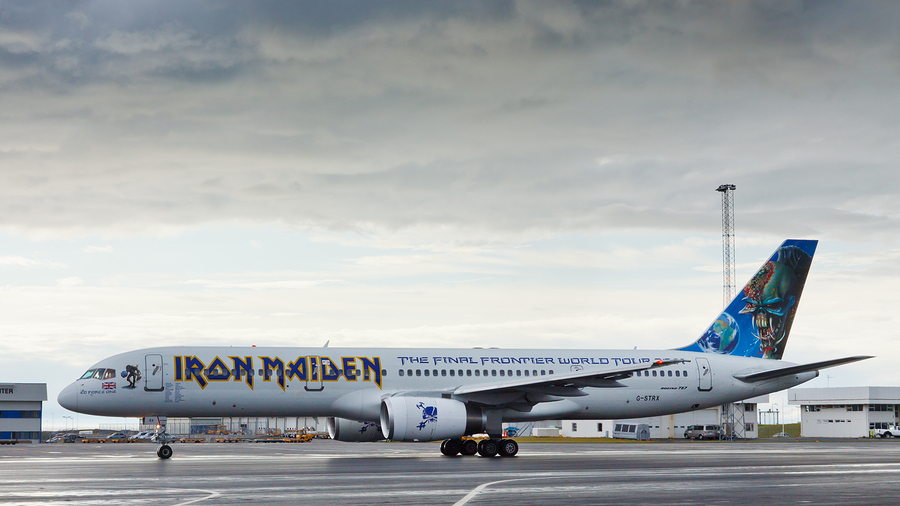 Iron Maiden's personal plane, piloted by the singer Bruce Dickinson.
Last month legendary British heavy metal band Iron Maiden released a massively successful new album, The Book of Souls, which it will support with a unique, ambitious world tour. Maiden's lead singer, Bruce Dickinson, has long had a 'day job' as passenger jet pilot - and he will be piloting the band's own 747 as the band goes from city to city all over the world.
In the midst of all the new developments comes the release of a special limited edition bottled beer, Trooper 666, "an even stronger ABV limited edition" of the band's Trooper beer, which is produced in collaboration with Robinsons Brewery in Cheshire, England. The original Trooper beer has sold a reported 10 million pints in the first two years of its existence, and the new 666 variety was released to mark this momentous occasion.
What Does the 666 Mean?
Trooper 666 has an ABV of 6.6%, which is stronger than the original beer's 4.7%. Both brews are linked to the popular Maiden song "The Trooper," and the label features the image of the iconic "Eddie" character that appears on many of their album covers.
While many may assume that the "666" refers to the song "Mark of the Beast," Dickinson asserts that it actually refers to the number of soldiers that rode in the Charge of the Light Brigade during the Battle of Balaclava in 1854. Historian Terry Brighton uncovered this information, which stands in contrast to the 600 soldiers Tennyson wrote about in his famous poem.
The Broad Appeal of Music-Based Beer
The recently released Trooper 666 beer. Photo source: Flickr
"Not only do Iron Maiden genuinely enjoy a good pint of cask ale, but so do many of their fans . . . this partnership works for both of us," says Oliver Robinson, managing director of Robinsons Brewery. "The combination [of music and beer] is very powerful."
Craft brewers should think outside the box for unique partnership ideas of their own - with bands, actors, or celebrities, for instance - partnerships that can open up promotional opportunities that include merchandising and live events. Likewise, successful musicians, authors or other celebrities can benefit from a partnership with a craft brewery to create their own brew.
Taking Cues From Iron Maiden
There is such tremendous variety in microbrews today that a brew can be tailored to reflect the unique personality of the celebrity to which it is tied. Like the Trooper brews, images that relate to songs or movies can be used on labels and taphandles. Other merchandising like t-shirts and coasters can also be sold along with the brew.
One thing to note is that this partnership may have become so successful because both Iron Maiden and Robinsons Brewery had a long history of individual success. A celebrity-brewery partnership may not create success that wasn't there before, but it can be a way to increase or capitalize on a level of pre-existing success.
If you liked this article, you may also like: Handling Your Beer: Designing a Custom Taphandle